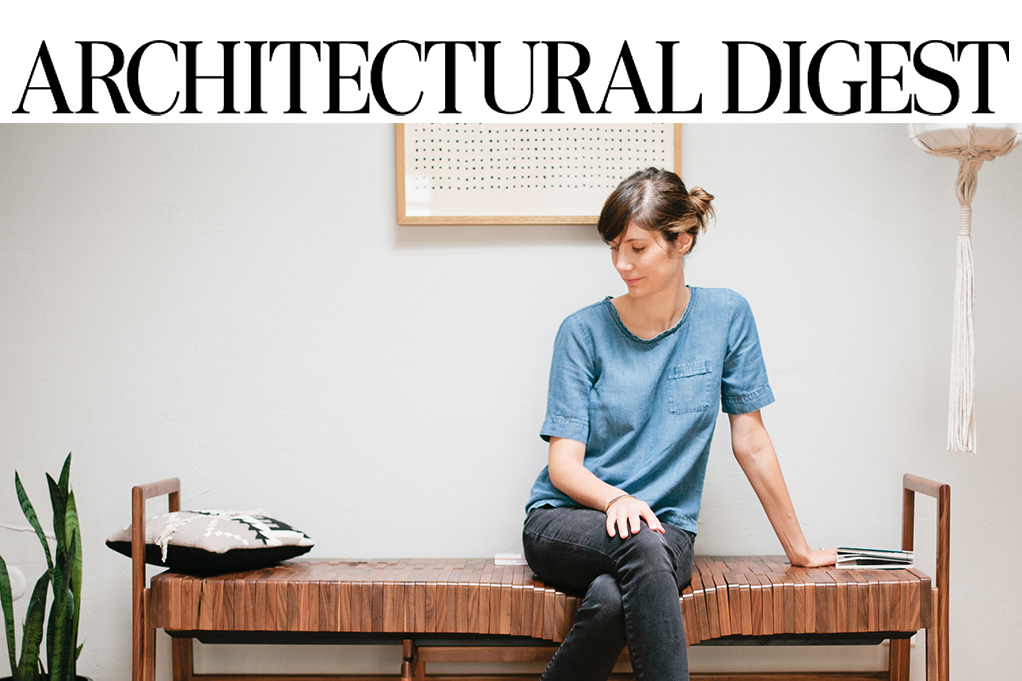 Uncrate
Open 45 featured on Uncrate.
https://uncrate.com/sitskie-open-45-credenza/
A+ Award
Fig chair placed as a finalist in the Architizer A+Awards! We were in good company with some fantastic designs.
A+Award
Fig stool won the honorable mention in the Architizer A+Awards!
Block System featured in collection from Sandu Publishing
https://www.behance.net/sandupublishing
Dwell Magazine
PROJECT
TASLIMI RESIDENCE
DESIGNER
FLEETWOOD FERNANDEZ ARCHITECTS
PHOTOGRAPHY
BRYCE DUFFY
TEXT BY
MARY ORE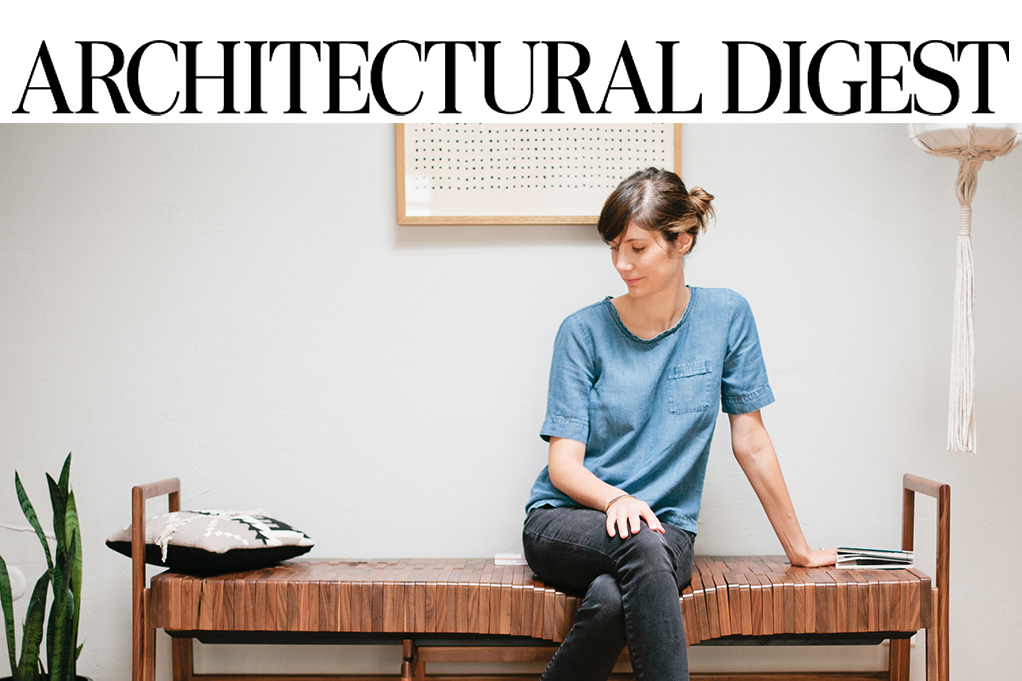 Architectural Digest
An Innovative, New Wooden Chair That Molds to Your Body
An L.A.–based furniture company has found the sweet spot between fashion and function—and it looks like a Jenga set
TEXT BY
PHOTOGRAPHY BY
MEGAN WELKER
Shopping for the right furniture to outfit your home can be difficult. The search for a comfortable sofa or chair that's also aesthetically pleasing can be fruitless. Yet, one Los Angeles–based furniture start-up is attempting to find the perfect middle ground between comfort and style.
Sitskie Furniture Co. has created sleek wood chairs and benches that are actually comfortable to sit on. Its secret? Instead of putting a cushion on top of a wood frame (as with traditional pieces of furniture), the company places the cushion under the wood. The sitting surface itself is composed of smaller wood blocks—appearing side by side, almost as if they were from a Jenga set—and contour to fit the shape of the person who perches upon it.
All of Sitskie's benches and chairs are handmade, which means customers will have to wait six weeks before trying out their newest piece of furniture. Items range in price from $4,000 to $6,200, and can be ordered directly from the company's website.
SOURCE – HTTP://WWW.ARCHITECTURALDIGEST.COM/STORY/SITSKIE-BLOCK-SYSTEM-CHAIR-FURNITURE
Uncrate
The look of the Sitskie Block Bench alone is exceptional, made in Los Angeles from FSC-certified solid domestic hardwood. But the secret to this line of furniture isn't fully realized until you sit down and the bench curves to fit to your body. The wood is compressed to achieve this feat unique to wood furniture, providing a soft, comfortable experience without compromising the things that make solid surfaces great. Quite possibly the most versatile, well designed line of wood furniture we've ever seen.
SOURCE – HTTP://UNCRATE.COM/STUFF/SITSKIE-BLOCK-BENCH/
Fast Company
LOS ANGELES FURNITURE BRAND SITSKIE USES A GENIUS ASSEMBLY TECHNIQUE TO MAKE WOOD FEEL AS PLUSH AS PILLOWS.
There is an all but certain truth that accompanies upholstered seating. While comfortable, it's far from durable. In fact, I'd wager that there's at least one cushion on most couches that gets flipped to hide some mystery stain. After years of working in the furniture sales business, designer Adam Friedman thought there had to be a solution. So he tinkered away in his workshop until he landed on a result: solid-wood furniture that conforms to your body like memory foam.
via Contemporist
"Basically everyone hated upholstery," he says. "There's a finite time before it gets destroyed and that's a problem I always thought about. The Block series is the evolution of the upholstered piece—how do you have something durable and long-lasting, but still yields?"
Friedman's Block system consists of individual wood pieces that are joined by elastic and sit atop a cushion. Building a five-foot version of the Block Benched Armed, one of the latest pieces in the series, required about 450 separate pieces of wood. The surface responds when you sit on it, essentially offering the give of upholstery with the durability of wood. Best yet? If you spill wine on the bench, simply remove the blocks, wipe it down, and no one will be the wiser.
Each bench is custom made, ranges between $4,000-$6,200, and can be ordered from sitskie.com.
SOURCE – HTTP://WWW.FASTCODESIGN.COM
Hypebeast
Wood has many admirable qualities as a craft material: its sturdiness and durability, the patina it gains over time, ease of cleaning, and the beauty and luster of a well-developed grain. However, comfort is oftentimes not one of these qualities given the unbending structure of wood. Sitskie Furniture has succeeded in solving just this in its Block Bench design, where the seating surface is not one piece of wood, but many pieces that dovetail together that can move individually to accommodate the curves of your body. Handcrafted in Los Angeles out of FSC-certified solid domestic hardwood, the Block Bench is available in different size configurations.
Sitskie Awarded US Patent
Sitskie Awarded US Patent
Sitskie was awarded a US patent for its unique surface innovation.
LA TIMES
HOME & DESIGN
"Just try and resist a furniture piece from a company called Sitskie. DIana Solis Succumbs, on a Sitskie cushioned block bench."
LA TIMES
EDITOR'S PICK - DWELL ON DESIGN
Eduardo Reynoso, left, tries out Sitskie's Block bench ($5,450) and Diana Solis sits in the Block arm chair ($4,200). The pieces from L.A. designer Adam Friedman's studio are made from black walnut blocks on foam cushioning. www.sitskie.com Cheryl A. Guerrero / Los Angeles Times
F//P Magazine
F//P Magazine
So, it turns out that Instagram is good for more than just belfies* and food pics. There is a whole 'nother world out there dedicated to furniture and design that us lucky ones who like to dig a little beneath the surface get to behold. We love the chrome and black leather of mid-century as much as the next guy, but there are some seriously talented guys and gals out there designing and dispensing pieces for yo ass to sit in that just might be as timeless (if not more comfortable) as any Corbu or Wagner. Enter: Sitskie. Of course, this may all be a bit premature – after all it is only the tens, and we're gonna need, give or take, 40 more years before we can claim anymore bona-fide mid-century goodness, but personally, I think we are off to a pretty damn fine start.
Admittedly, the bar is high, but the talent is obviously everywhere (read any piece on this site if you're the doubting Thomas type) and the tools are commonplace. Technology (good or bad) is flourishing and the tools of the trade are at our collective fingertips. Luckily, some of those fingertips belong to Adam and Vanessa Friedman. Born in Los Angeles, Adam is the real deal. He attended Rhode Island School of Design for ID and graduated from CalArts with a BFA. While his lovely wife, Vanessa, does all the real work, he is the principal designer and craftsman behind the Sitskie Design Studio. Read a bit more to see what this dynamic duo is all about.
*sad, but true
FP: I just deleted my Myspace page and stumbled across this app called Instagram. After a thousand pics of chiseled abs, I found something worth looking at – Sitskie. First of all, thank you. Second, tell me about yourself.
AF: [Sitskie] is a furniture and flooring design studio based in Los Angeles. Our line is a little deceiving because it appears to be hard wooden furniture, but the seating and flooring is actually cushioned and surprisingly comfortable. It's always fun to watch people discover that –we actually took this great video one year at Dwell on Design to catch people's reactions. The reaction is always the same, but somehow it never gets old.
(Sitskie)
FP: I just checked out that video on your site. Love it. Tell me a bit more about you guys. What makes your communal design minds tick? How long have you been involved in the design industry?
AF: I really want to give people something new, something they haven't seen before – not a trend or a translation of something prior. We were just awarded a patent for our Block chair, bench and flooring. We're pretty excited about that. I like to think when our furniture gets passed down… people's grand kids will fight over the stuff. Kidding, but we really do like to design stuff that's cool and that will last and continue to look good. I went to design school and always wanted to design furniture for a living but never quite fit into any particular company/studio, which propelled me to branch out on my own and start Sitskie. I really wanted to be authentic in my design sensibilities and starting my own company was the best way for me to do that.
(Sitskie)
FP: Sounds like design runs through your veins. Have you always been interested in design? Who/what are your biggest influences? What is your background?
AF: Born in the '70′s, I spent a lot of time around bad design…burgundy leather, orange carpet, fake wood, square cars and ridiculous haircuts. For a first impression coming into the world, it was upsetting. I guess some of the things that shaped me were realizing what I didn't like at a pretty early age. I design because I imagine what I do want – my creativity comes out of necessity to create things that I don't see around me.
(Sitskie)
FP: Where do you draw your inspiration from (besides the opposite of orange carpet)?
AF: My wife, Vanessa is a big part of why I am here. People always see the designer in front but it rarely happens without a good team. She is a big part of Sitskie. I've drawn a lot of inspiration from mid-century modern design but also from pure functionality. The engineering challenges of something new is what gets me going, and then getting the opportunity to make it beautiful is my reward. For me, if you have a really beautiful piece of furniture but you don't want to sit in it, it's going to be nice to look at but you'll feel like a sucker for buying it. Wood furniture is great but it's not always that comfortable. I wouldn't do that to you.
(Sitskie)
FP: Thank you for thinking of me (I must admit, I have been a sucker for uncomfortable furniture in the past). How did the idea for Sitskie come about? Where are you located?
AF: In this case the egg came before the chicken. I made this chair from scrap wood from an abandoned futon. That was the first Block Chair. Ever since then, the chair's really had a life of its own. I'm just its caretaker. We sent one over to Italy a couple of years ago and it's led a fuller life than most people, going to photo shoots, winning awards, popping up in publications. I wish I was that cool.
(Sitskie)
We're located in Los Angeles. All of our furniture is designed and built here in LA.
FP: I will never ever (ever) be that cool. Your chair wins. I hear you were just at Dwell on Design. How was your experience? How was the reception to your wares?
AF: Dwell on Design was amazing. We met a lot of really cool people and received a nice response on our line. We don't sell in retail, only direct through our website and through trade, so anytime we're able to talk to our clients and get that live feedback is great.
FP: I always find it interesting to hear about what a designer actually does. Nobody really seems to know what we do. Please illuminate us – describe a typical day in your life in the world of furniture design and fabrication.
AF: It's super lavish. I fly all over the world, rubbing elbows with fancy people, drinking expensive liquor and getting loads of cash thrown at me OR it's sweaty, dusty and loud. Only the last part is true. But for some reason, it's what I like to do, so here we are.
FP: Best. Description. Ever. I may or may not steal it. What is your vision for Sitskie? What can we expect in the future?
AF: We're going to keep growing our line. We're really excited about this line of cushioned wood floor mats we're working on and will be a big push for us over the next year. We're also working on an outdoor line and starting to think about lighting.
FP: Sign me up – can't wait to see the stuff to come. What are the most popular products/services that you offer?
AF: The Block Chair is probably our most popular piece, but it was our first piece and the thing people know us for. The Block Bench is picking up in popularity, too.
FP: One last thing – you guys are killing it. Where can we see some of your design?
AF: Our Block Chair and Block Bench are currently in the Boffi LA showroom in West Hollywood. We also have a chair on display at Boffi in Milan. We're going to be at the WestEdge Design Fair in Santa Monica (10/16-10/19) and look forward to seeing a lot of our clients there. It's going to be a great show.
- F//P
SOURCE – HTTP://ITSFPMAG.COM/SITSKIE-VANESSA-AND-ADAM-FRIEDMAN/
Form Magazine
Form Magazine
Designer Adam Friedman crafts handmade, sustainable pieces at his Los Angeles-based studio. Using a patented seating system inspired by a pin-impression toy, Friedman's series of benches and chairs, made of interlocking wooden blocks, molds to the individual's body. Prices start at 3,700.
LA TIMES
15 MOST INNOVATIVE L.A. BUSINESSES AT DWELL ON DESIGN

If Jenga had a furniture line, it might look something like Sitskie's seats, which are made from blocks. The wooden chairs and benches are actually more comfortable than they look because Sitskie designed the blocks to move and conform to the body. Sitskie also offers design and product development services while reaching out to consumers with its fun, playful seats that double as conversation pieces. Adam Friedman is the designer and craftsman behind the chairs, which have been tested and re-tested before they became available to the public, though here in L.A., they're still only currently available at Boffi in West Hollywood.
Grazia Casa
Grazia Casa
SELECTED AS ONE OF THE BEST DESIGNS OF 2013
Dwell Magazine
Dwell
MADE IN THE USA
Riffing on the concept of a pin-impression toy, the Los Angeles designer Adam Friedman came up with a seat whose solid walnut blocks conform to the sitter's body thanks to the foam padding underneath them.
The Culture Trip
The Culture Trip
TOP TEN DESIGNERS IN LOS ANGELES
Based in Los Angeles, Sitskie is both a purveyor of fine handmade furniture as well as a design studio that takes great care to select sustainable materials for their products, which are all locally hand constructed. Each item is initially designed and developed by Adam Friedman who is a designer as well as a craftsman, which is then taken and fine-tuned to create wonderful objects that enhance living spaces. An example of this is the Block Chair, inspired by mid-Century design and made entirely by hand in Los Angeles; the design of the chair is so unique that it has even been patented. The surface of the chair is made up of more than 200 individual blocks, with the wood being carefully selected for its quality as well as its grain. The cushioning is made from a high-grade foam that is made in America, and is held in slipcovers that are both removable and washable. A truly innovative design, the Block Chair is a combination of luxury design with eco-elements.
SOURCE – HTTP://THECULTURETRIP.COM/NORTH-AMERICA/USA/CALIFORNIA/ARTICLES/TOP-TEN-DESIGNERS-IN-LOS-ANGELES/